You may be aware that the area has some of the hardest water in Canada, but just how hard is the water in Kitchener? Read on to learn more. Knowing your water hardness will help you select and set up a water softener that will meet the needs of your household. Once you know your water hardness, click here to find ideal softener for your home. Then, trust WaterSmart to sell you the best available unit, and to install it in your home free of charge. For more information, contact us or visit one of our locations today!
Kitchener 519-745-3170    Waterloo 519-886-7331   Cambridge 519-886-7331
 
Guelph 519-836-2543
"Just wanted to thank Scott and Paul for the good service yesterday when they installed my new water softener. They called ahead and said they would be arriving in 10 - 15 mins and worked diligently for the 1 1/2 hrs or so they were here. Took boots off at the door and were very careful with the cart as they moved up and down the stairs. Gave my wife and I instructions at the finish and were very professional. Everything cleaned up at the end. Good job and well done!" - Bob Reith
How Hard Is The Water In Kitchener?
Kitchener has a unique water challenge as it has some of the hardest water in all of Canada. Kitchener has a water hardness level of 17-36 grains per gallon - depending on what neighbourhood you live in. Compare that to the national average in Canada of 10.5 grains per gallon - that's 2 to 3 times the national average! Getting the right water softener that can handle this kind of water hardness is important to fully eliminate the problems the water in Kitchener can cause.
Check out this map to see how hard the water is in your home, and click on the map to be directed to the interactive version: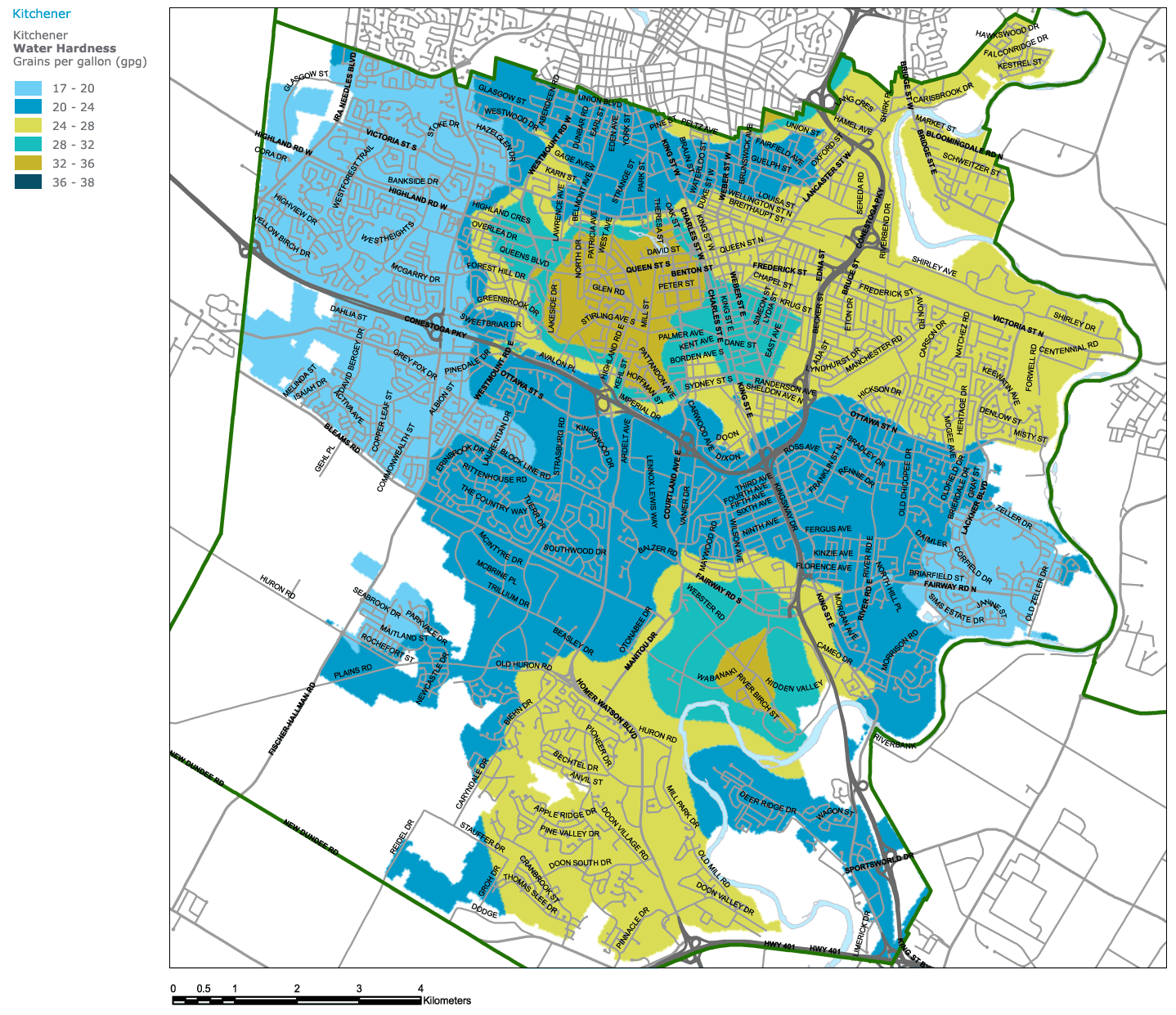 Water hardness in Kitchener ranges from 17-36 grains per gallon.
Why is Kitchener's water so hard?
According to Water Softener Facts, municipalities in the Grand River Watershed rely on groundwater for their drinking water supply. Groundwater is typically hard because it absorbs minerals from the earth it flows through, specifically calcium and magnesium. Based on the 17-36 grains per gallon cited above, the following chart displays just how hard the water in Kitchener is. 
| | |
| --- | --- |
| Classification | Water Hardness |
| Soft | 0-1 grains per gallon |
| Slightly hard | 1-3.5 gpg |
| Moderately hard | 3.5-7 gpg |
| Hard | 7-10.5 gpg |
| Very hard | 10.5 gpg and over |
Why does it matter if your water is hard?
While healthy to drink, hard water can cause a number of issues in your home. Some of these problems include:
Damage to your dishwasher, washing machine, and hot water heater due to mineral build-up
Calcium build-up in your shower
Sink and toilet bowl stains
Damage to your plumbing pipes
Difficulties getting your dishes and laundry clean
Damage to your clothing, causing it to wear out faster
Without proper maintenance and precautions, the efficiency of appliances, such as tanked water heaters, will decrease over time due to mineral or scale accumulation.  As a result, residents of areas with hard water often use water softeners to remove the hardness of water.
 Municipalities in the Grand River Watershed rely on groundwater for their drinking water supply.
Why you should install a water softener
Installing a water softener will remove the minerals found in Kitchener's very hard water supply and thereby make your water soft. To find out how a water softener removes these minerals, click here. 
Hard water is safe to drink, but exposure could exacerbate eczema, and can also cause skin irritation or a dry scalp.
There are many different types of water softeners on the market. It is important to purchase a water softener that can handle the amount of hardness in your water, keeping up with the amount of water that your family uses. To determine the size of water softener that you require, click here.
The main reasons you may want to purchase a water softener are:
to lower energy consumption by reducing scale build-up in water heaters
to reduce the amount of soap needed to create a lather
to maintain plumbing fixture appearance and function
to enjoy the feel of softened water when washing.
WaterSmart's softeners are programmed with Kitchener's hard water in mind.
How Hard Is The Water in Kitchener? WaterSmart Knows!
Because of the unique and challenging water hardness issues found in the city of Kitchener, it is a good idea to purchase a water softener from a company that is familiar with the Kitchener area. WaterSmart is a locally owned and operated Kitchener business. For over 25 years, we have been helping the residents of Kitchener solve their hard water issues.
The professionals at WaterSmart can help you calculate your exact water hardness level and corresponding softening needs to determine the appropriate softener for you. We will then install and program your softener so that it operates with the highest efficiency.
We will also teach you how to operate and maintain it. Contact the water softener experts at WaterSmart today, and we will gladly answer all of your water-related questions.